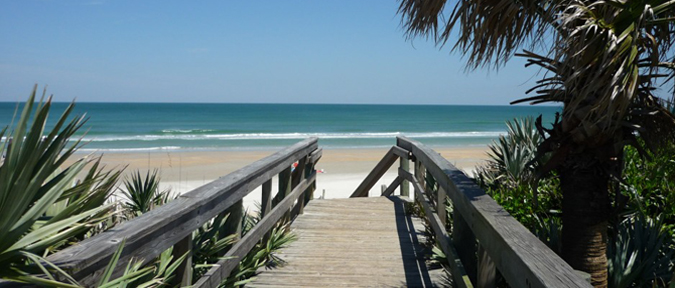 Outdoor recreation is a way of life in New Smyrna Beach, with everything from swimming and scuba diving to golf and hiking. However, the beaches are the top draw for this beautiful island town. It has more than 13 miles of pristine white sand beaches with an additional 24 miles of coastline at nearby Canaveral National Seashore, which is located on the south end of the island.
New Smyrna Beach was voted "Best Beach in Florida," by readers of Florida Monthly Magazine. Visitors and residents love sunning and beachcombing on the sandy beaches, many enjoy windsurfing, sailing, surf fishing and other activities. It's also a great place for those who want to learn more about Florida's diverse ecology, where boat tours are available of the Indian River Lagoon, and with the Canaveral National Seashore's dunes, lagoon and salt marsh and several endangered species of birds and animals. New Smyrna Beach also offers visitors access to professional sports, cultural and recreational activities and world-class attractions.
The area is dotted with museums and performing arts centers and the weekends are filled with festivals and concerts. New Smyrna Beach was named one of the "Top Small Cities for the Arts," and is home to the Atlantic Center for the Arts and the Little Theater of New Smyrna Beach. Nearby Daytona Beach has live celebrity performances at several venues in that city.
Hotels and restaurants in New Smyrna Beach are plentiful and offer a wide range of choices, everything from fast food to some of the finest dining on the Florida coast. All of these amenities, topped by gorgeous beaches and a near perfect climate, make New Smyrna Beach a great vacation destination.